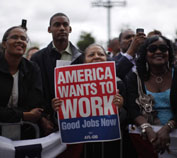 Almost two years ago, I reported on President Obama's jobs plan, which he outlined in a speech at the Brookings Institution. Time has passed, and yet my report on how to get more Americans back to work couldn't be more relevant today. Here's the story that appeared on Dec. 11, 2009, in U.S. News & World Report:
The Next Jobs Push
Obama unveils a three-part plan for stimulating more jobs—to mixed reviews
By Lisa Palmer

A year ago, Americans were losing their jobs at a rate of 700,000 per month. Now, even as that rate has dropped to 135,000 per month, the ranks of unemployed workers still top 11 million. So it's no surprise that figuring out how to get America back to work has taken the spotlight.

President Obama this week announced in a speech at the Brookings Institution a new "effort to accelerate job growth [in] those areas that will generate the great- est number of jobs while generating the greatest value for our economy." His plan outlines three main policies to spur job growth. Small businesses would receive a tax credit if they hired new workers, and they would get relief from capital-gains taxes on small-business investments. Second, the plan includes money for key infrastructure improvements, such as building roads and construction projects. Third, it proposes a "cash for caulkers" rebate program that would provide financial incentives for homeowners to make their houses more energy efficient. In addition, Obama called for an extension of unemployment insurance and more aid to state and local governments facing budget crunches.

The plan has drawn mixed reviews from economic policy experts. Labor market economist Heidi Shierholz of the Economic Policy Institute says Washington insiders are starting to realize the enormity of the job crisis. "There is a strong consensus amongst economists that the February stimulus act is working," she says. "But it wasn't big enough to get us back on track. We need more."

Harry Holzer, an economist at Georgetown University's Urban Institute, is pleased with some components of the plan. "It was very important to extend money to states and localities to prevent additional job loss," he says. But other parts of the plan are a mishmash: "It is not as well targeted to job creation as I would have liked," Holzer says.

Both Holzer and Shierholz advocate direct job creation initiatives, which were absent from Obama's proposal. Holzer said a $30 billion job creation plan to set up a public service employment program would put 1 million Americans back to work.

Peter Morici, a professor at the University of Maryland's School of Business, is critical of both the original stimulus plan and the new proposal. "What businesses need are customers," he says, arguing that a greater proportion of the plan's funds should be directed to things like construction, which would stimulate consumption, which would in turn create jobs.

Obama did not talk about the plan's price tag. Some lawmakers estimate it would total roughly $200 billion, the amount the Treasury Department estimates has been trimmed from the projected cost of the Troubled Asset Relief Program. But that could face resistance. Republicans, already howling that the $787 billion in the original stimulus plan was wasted, argue that any money saved should be used for deficit reduction.