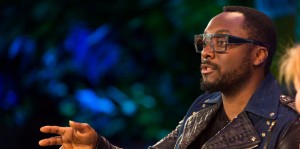 I recently talked with will.i.am of the Black Eyed Peas at Brainstorm Green in Laguna Niguel, California. The hip-hop band founder and innovator launched a brand initiative with Coca-Cola called EKOCYCLE, which inspires brands to not only design but innovate by using recycled materials in their products.
The potential for consumer goods to use more recycled material is huge. But a disconnect still exists between quality design and quality goods made with recycled materials that are attractive and that people want.
That's the focus of my article which has just been published on the excellent Ensia website, a publication of the University of Minnesota's Institute on the Environment.
Here is how my story begins:
Will.i.am was sweating. You couldn't see it. But he was sweating on the inside.

"It's intimidating, you know, to be in front of like all the top Coke execs," the founder of the hip-hop group Black Eyed Peas said recently at Fortune's Brainstorm GREEN in Laguna Niguel, Calif.

Will.i.am was describing the presentation he gave to the Coca-Cola Company that challenged the company and its executives to better convey sustainability. He had been searching for a way to turn the word "Coke" into a verb to create an initiative toward that end. ("And if you don't believe that verbs are important for companies to become, you should Google it," the rapper said.) He eventually found the solution by reworking the letters to form "Ekoc," then adding sustainability concepts to the new word. So: Eko-cycle, Eko-consumption, Eko-credibility, Eko-consciousness.

The concept stuck.
Almost 42 billion aluminum cans end up in landfills, and $1 billion in aluminum resources goes to waste. Recycling them saves 95% of the energy it takes to make aluminum in the first place.
I hope more companies will begin to use recycled materials as a standard procedure. Coke will contribute $1 million for community recycling efforts through the project, but much more effort and involvement is needed to spur recycling on a broader scale.
Will EKOCYCLE help make a difference?
You can read the article, "Will Power," here.