Pew Climate Change Senior Scientist Jay Gulledge has mixed science and communicating since earning his Ph.D. in biological sciences 15 years ago.
On the research side, the biogeochemist has studied carbon cycling and the cycling fluxes of methane between ecosystems and the atmosphere, and he continues to work with colleagues in China on issues involving the country's methane budget.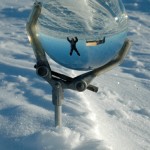 Before joining the Arlington, Va.-based Pew Center on Global Climate Change in 2005, Gulledge had taught at the University of Louisville and at Tulane University. Now much of his work involves helping scientists and scientific organizations improve their ability to make research accessible and meaningful to the public, says Gulledge, a self-described "pure-bred scientist" now actively tilling the communications and policy fields.
Gulledge spoke with me recently for an interview that appears in the Yale Forum. So what's the big takeaway? My guess is that standards for data transparency will move into greater focus in the coming years. Gulledge says, "Industry professionals in fields like engineering have long ago set standards for how they archive their work and so on. That has not been a practice in the basic fields of science, such as earth sciences, because they are not closely tied to contract law. Now they need to start doing it because the need is becoming apparent. The point would be to protect earth scientists from unwarranted accusations of conflict of interest."
You can read the complete interview here.