Climate change litigation is in its infancy, but experts predict growth in number of battles fought within the legal system.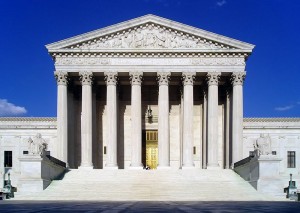 Seven years ago, the United States court system became involved with making decisions on climate change. Today, in the absence of federal legislation, courts more and more are expected to play a key role on greenhouse gas regulation and on issues arising from claims of liability linked to alleged climate-related damages.
An especially notable case arose in 2003 when the Bush administration's Environmental Protection Agency determined it lacked authority to regulate carbon dioxide emissions as pollutants. Massachusetts and 11 other states challenged that decision. The Supreme Court eventually heard the case, Mass. v. EPA, and in 2007 ruled in favor of the states (see Yale Forum article) .
The Supreme Court may address climate change again this term, potentially deciding whether climate cases can proceed as courts become front lines for the climate fight. [See Yale Forum for my complete article]